Easter Eggs in Photoshop and ImageReady

Description
This tutorial will guide you how to trigger hidden Easter eggs in Photoshop and ImageReady. Fun guaranteed. Happy Easter!
Also take a look at other Photoshop tutorials...
Pages
Funny About
Just do the same thing as in Photoshop and you will get this: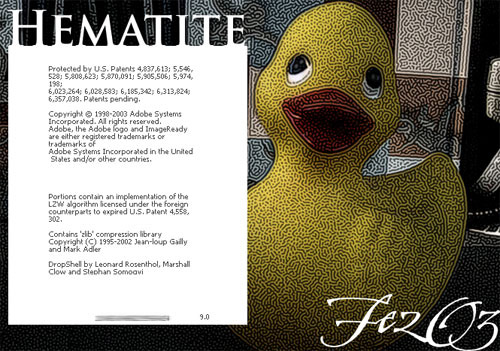 Cute Ducks
I really really like this one. I hope you all like those little cute yellow ducks.
go to

Help

>

About ImageReady...

hold CTRL key (notice that cursor changes to stamp)
where you click, you add a cute little duck with reflection! (that was probably from the version where there was water and not just white background like now in CS2 version)
if you want to shoot the duck, hold CTRL and ALT simultaneously, the cursor changes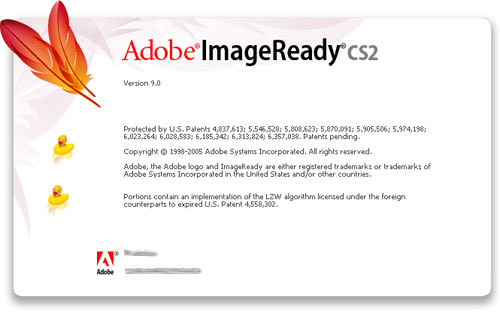 Duck Board
This one is extremely straightforward:
just go to

File

>

New

make sure the content layer is set to Transparent (size does not matter)
now type (yes, just type) 'duckerboard' (no apostrophies of course)

look, your transparency grid changed to duck grid!
to disable just type 'duckerboard' again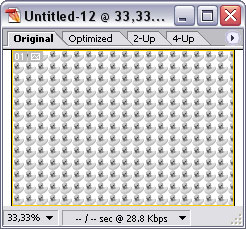 Thats all folks!
I hope you enjoyed this Easter and especially these Easter eggs, because I do really like them.
If you have any problem, look below, you can post your problem/impression/mood/anything/bla in the discussion.
Thanks for reading.
Your PS geek, Rado.
If you liked this tutorial (or even if you didnt :) please make a Comment and Vote in the section below.
Thank you.
And if you happen to have a good
idea of a tutorial
(that is REALLY yours), you might wish to send us the procedure in text form and/or pictures and we will place it on our site. Be proud of what you can do.
Pages
Submitted by Radoslav on 2006-04-16 14:38:46. Since then read 69205 times.
Scored 3.06 points out of maximum 5 by 140 votes.
Also take a look at other Photoshop tutorials...
Rate this tutorial!
Remember: the more points, the better!
Invite a friend!
Discussion
johnny c
johnnyc AT aol DOT com
said on 2009-03-19 18:42:44
why did you blur out your serial number? Your copy of Photoshop is'nt pirated is it? :)