All About Adjustment Layers

Description
Discover how and when you should use Adjustment Layers instead of normal effects.
Also take a look at other Photoshop tutorials...
Pages
Creative with Adjustment Layers
This tutorial has been requested by our user Mr. B. C. Phukan. The topic of Adjustment Layers surely is important for every Photoshop user and I will therefore describe all of its features that I know.
We will work with these old lanterns.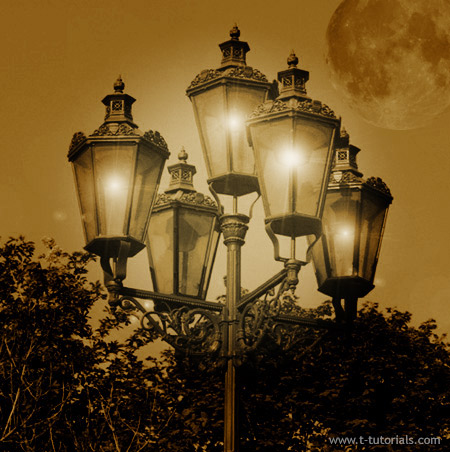 Part I. - Intro to Adjustment layers
(and their substitutes)
I am sure you have at least once used some of the tools that are located in Image/Adjustments/..., I mean Curves, Levels, Hue Saturation... and others. What can we say about them?
-- they affect whole picture (if you dont use them in a selection)
-- once you have used them and have done other things, you can not affect them or their settings
(lets say that you have just converted a full-colored photo into a grayscale one because you think it will look much better, and after 2 hours of elaborate retouch you realize that now, after the work is done, it would look much better in color. Huh, not possible without AL :(
-- you can not affect in which way will the effect interact with the layer it is used on (in Adjustment layers, you can work with the effect as with a layer)
-- you can not change the settings of the effect later
e.g. if you increased overall lightness of the picture before some retouch, you would not be able to return to the darker version of the image without losing the result of the retouch (or you could possibly use the same effect in the opposite way - if you lightened the picture before, you could darker it later, but by such a method you would lose some details in the darkest and lightest areas)
You might have already guessed that the Adjustment Layers will enable you to work in all of the abovementioned areas what would otherwise not possible.
So, those were the oldy-worldy ones in the section Image/Adjustments. Faster but limited tools. Lets take a step (or a leap) forward to more professional works using Adjustment Layers.
See Part II. on the next page
Continue Reading On The Next Page >
Pages
Submitted by Martin on 2006-05-24 18:24:35. Since then read 84330 times.
Scored 4.21 points out of maximum 5 by 19 votes.
Also take a look at other Photoshop tutorials...
Rate this tutorial!
Remember: the more points, the better!
Invite a friend!
Discussion
Mr. B. C. Phukan bcphukan AT indiatimes DOT com said on 2006-05-27 09:23:09
Dear Martin! The Tutorials on Adjustment Layers are very useful and simply fantastic. It has helped me immensely to clearify some of my doubts on the subject. Thanks so much.

Martin mato AT t-tutorials DOT com said on 2006-05-27 09:34:18
I hope it helped. If there are any more things to clarify, let me know and I will do my best. Anyway, thx for suggestion on a tutorial.

yushatak techmaster AT myself DOT com said on 2006-06-17 17:32:17
I may well check out adjustment layers, even though most of my work is with abstracts and web design (where it's a bit less useful). BTW: Some sort of glitch in your page source on this tutorial. It's showing a if lists are supported comment of some kind. Just figured you'd like to know.

Ihaw ihaw89f AT yahoo DOT com said on 2009-04-02 18:27:42
The AL(adjustment layers) is quite easy to learn, especially the hue/saturation. But, the other more complex AL like curves and color balance as example, is harder to learn ourselves. Maybe more explanation for each will AL helps.